Timeline
The story happens on Counter Strike World (2010, 2011 and possibility of 2012) after the Drumans series which means that is the continuation of the global saga.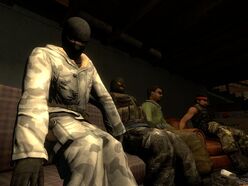 Story
4 terrorists live in a old house in an abandoned quarters with their neighbours meters away. Unfortenatly they don't like at night the terrible noises of counter strike or the television, so they do everything in order to exterminate the militia heroes. Will our militia heroes survive and make their wish come true of going to E-sports and become the masters of Counter Strike?
This series can be seen on unbreakableBeast channel
Ad blocker interference detected!
Wikia is a free-to-use site that makes money from advertising. We have a modified experience for viewers using ad blockers

Wikia is not accessible if you've made further modifications. Remove the custom ad blocker rule(s) and the page will load as expected.